Pecan and Maple Syrup Flapjacks
---
Sweet treats / Baking / Desserts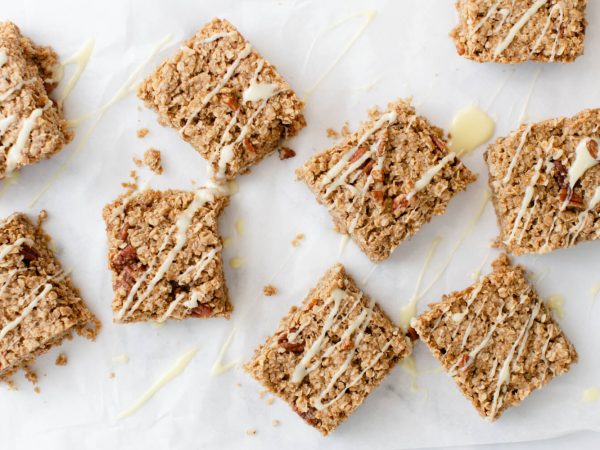 Ingredients
For the maple syrup flapjacks:
1 ¼ cups

butter, plus extra to grease

1 ⅕ cups

pure Canadian maple syrup (preferably dark for its robust taste)

¼ tsp

tsp ground cinnamon

⅗ cup

shelled pecans, toasted in a dry pan and chopped

5 ¼ cups

rolled oats
For the drizzle topping:
25g

white chocolate, chopped

1 tbsp + 2 tsp

pure maple syrup (preferably amber syrup for its rich taste)

3 tsp

shelled pecans, toasted in a dry pan and chopped
Method
Pre-heat the oven to 140°C.
Put the butter, maple syrup and cinnamon in a pan with a pinch of salt and stir until melted. Add the nuts and oats and stir well with a wooden spoon to coat.
Spoon the mixture into the lined cake tin, level the top, pressing down slightly, then bake for 25-30 minutes.
Remove from the oven and score 16 squares, then leave to cool completely in the tin on a wire rack.
For the topping, put the chocolate and maple syrup in a heatproof bowl set over a pan of barely simmering water (don't let the bowl touch the water); heat until just melted, then stir and drizzle over the flapjacks.
Sprinkle with chopped pecans, then cut into squares to serve.
A sweet and simple flapjack recipe, perfect for introducing the kids to baking.
The Quebec Maple Syrup Producers are not in any way responsible for the identification or presence of allergens in recipes or for the classification of any recipe as vegetarian or vegan.
Hundreds of Delicious Recipes
Maple is a special addition to any recipe, from appetiser to dessert. Find one that's perfect for you!