'Tear and Share' Maple Hot Cross Buns
---
Baking / Sweet treats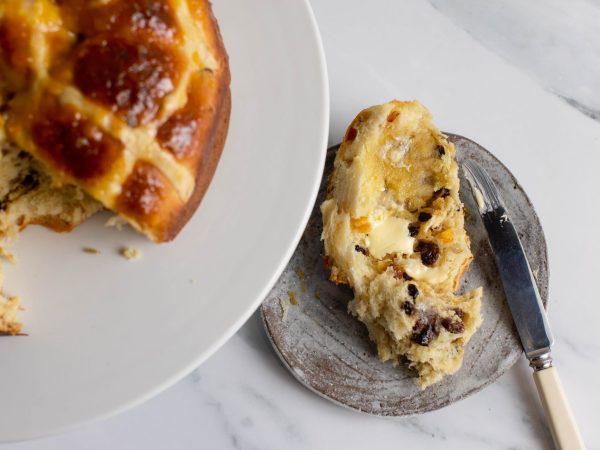 Ingredients
for the ferment
1/4 cup

'00' flour (or All-Purpose flour)

1/4 tsp

dried yeast

1/3 cups + 1 tbsp

water, room temperature
Pinch of salt
For the dough
1/3 cup

orange marmalade

12

fennel seeds

1/2 cup

dried fruits

1 1/2 cups

'00' flour (or All-Purpose flour), plus extra for dusting

1/2 cup

whole milk

2

medium eggs

2 tsp

salt

1 tsp

dried yeast

1/4 cup

maple sugar

1/3 cup

pure Canadian maple syrup (preferably Amber for its rich taste)

1/4 cup

unsalted butter, softened and cut into pieces

1/2 cup + 4 tsp

water, room temperature
For the cross topping
1/4 cup

plain flour

1/8 cup

self-raising flour
Pinch of maple sugar

1/4 cup

water

2 tsp

vegetable oil, plus extra to grease the tin
For the glaze
1 tbsp

marmalade or orange jam

2 tbsp

pure Canadian maple syrup (preferably amber for its rich taste)
Equipment
Stand mixer with dough hook
Spring-form cake tin, lightly buttered
Disposable piping bag
Method
Mix the ferment ingredients in a small bowl to form a stiff dough. Cover with cling film and leave at room temperature overnight until it more than doubles in size.
The next day, mix the marmalade with the fennel seeds, dried fruits and maple syrup in a mixing bowl, then set aside to soak.
Weigh 190g of the ferment mix, tear it into pieces and put in the bowl of a stand mixer with a dough hook attached. Add the flour, milk, egg, salt, yeast and water.
Mix on a low speed for 2 minutes, scrape the sides of the bowl down with a spatula or palette knife, then mix for another minute or so until all the dry ingredients are incorporated.
Increase the speed to medium for around 5 minutes, until the dough is smooth and elastic.
On a medium speed, add small amounts of the maple sugar to the bowl until combined, this should around take 2 minutes.
Add the butter to the bowl piece by piece, then mix again on a medium speed for 2 minutes or so until fully incorporated.
Finally, add the soaked fruit mixture to the bowl and mix on a low speed until evenly distributed.
Transfer the dough to a lightly oiled bowl and cover with cling film or a clean tea towel. Leave to rise at room temperature until at least doubled in size (about 1½ hours).
Once the dough has risen, turn it out onto a lightly floured work surface and knead gently to remove any large air pockets.
Divide the dough into 6 equal balls and place into the cake tin. Cover the tin with a clean tea towel and leave to prove for 1½-2 hours.
To make the cross topping, put all the ingredients in a bowl and mix well until smooth. Scrape into a piping bag and set aside.
Heat the oven to 200ºC.
When the dough has at least doubled in size, brush generously with beaten egg all over, then pipe a cross on top of each dough ball.
Bake for 25-30 minutes until golden. Just before the baking time is up, warm the marmalade and the maple syrup in a small pan to make a thick syrup.
Remove from the oven and transfer to a wire rack and brush all over with the glaze. Leave to cool before serving.
Learn how to make hot cross buns with this buttery and delicious hot cross bun recipe. Made with the whole family in mind, this giant tear-and-share-style hot cross bun is perfect for special occasions. The dough gets an extra splash of sweetness from the additions of maple sugar and pure maple syrup. 
Like the look of this hot cross bun recipe? Check out some of our other baking recipes below!
The Quebec Maple Syrup Producers are not in any way responsible for the identification or presence of allergens in recipes or for the classification of any recipe as vegetarian or vegan.
Hundreds of Delicious Recipes
Maple is a special addition to any recipe, from appetiser to dessert. Find one that's perfect for you!