Maple Lamb Pie
---
Lamb / Mains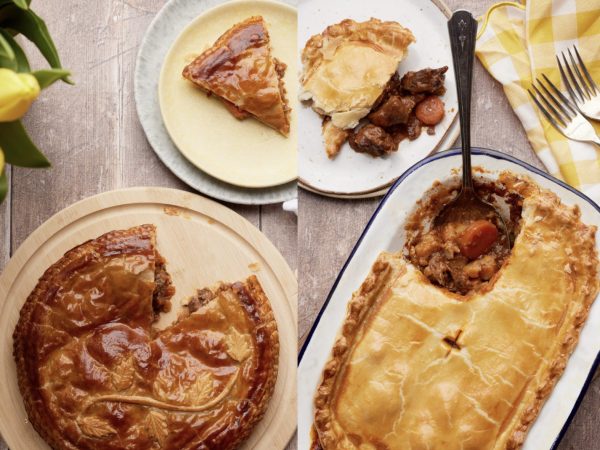 Ingredients
3 tbsp

olive oil

500g

diced lamb

1

red onion, chopped

1 glass

red wine

3 tbsp

pure maple syrup (preferably dark syrup for its robust taste)

4

garlic cloves, thinly sliced

500g

potatoes, peeled, cubed

2

carrots, peeled, sliced

3 tbsp

tomato paste

4 tbsp

gravy powder

1

beef stock cube

4 cups

water

2 tbsp

Worcestershire sauce

2 tbsp

fresh rosemary, chopped

1 tbsp

fresh thyme, chopped

2 tbsp

cornflour

1

puff pastry sheet, ready rolled

1

egg, lightly beaten
Salt and pepper, to season
Method
To make the filling
Heat 1 tbsp oil in a large saucepan over medium-high heat.
Add the lamb. Cook, stirring occasionally, for 5 minutes or until browned. Transfer to a plate.
Heat the remaining 2 tbsp of oil in a pan over medium-high heat.
Add the chopped onion and garlic. Cook for 3 minutes or until soft.
Add the potatoes, carrots, rosemary and thyme. Cook for 5 minutes or until browned.
Add the wine, maple syrup, tomato paste and gravy powder.
Return lamb to pan then add stock cube, water and Worcestershire sauce. Increase heat to high. Bring to the boil then reduce to a simmer, covered, and stir occasionally for 2 hours or until the lamb is tender. Season with salt and pepper to taste.
Combine cornflour and 2 tablespoons of cold water. Add to the mixture. Simmer for 1 minute. Remove from heat and cool.
For the easy version
Preheat oven 180°C.
Grease a 4 to 5cm deep, 20cm (base) pie dishes.
Pour the lamb mixture into the dish the line the puff pastry on the top.
Brush the pastry with the beaten egg then bake for 20 minutes.
For the hard version
Preheat oven 180°C.
Place one circle of puff pastry dough on a baking sheet lined with parchment paper.
Spread the lamb filling evenly over the dough, leaving a 1-inch border bare. Press the charm into the filling.
Moisten the border with cold water, position the second circle of dough over the filling and press around the border with your fingertips to seal well.
Using the back of a table knife, scallop the edges by pushing into the dough (about ¼- to ½-inch deep) every ½ inch or so.
Refrigerate for at least 30 minutes.
Bake for 40 minutes.
The Quebec Maple Syrup Producers are not in any way responsible for the identification or presence of allergens in recipes or for the classification of any recipe as vegetarian or vegan.
Hundreds of Delicious Recipes
Maple is a special addition to any recipe, from appetiser to dessert. Find one that's perfect for you!