Maple Walnut Loaf
---
Vegetarian / Baking / Breakfast and Brunch / Desserts / Sweet treats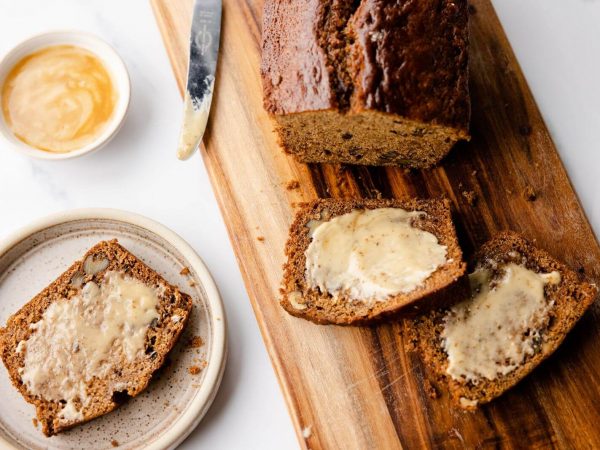 Ingredients
2 cups + 1 tbsp

gluten-free flour

5/6 cup

Tapioca flour

1/2 cup

potato starch

4 tsp

baking soda

1 tbsp

baking powder

1 1/2 tsp

xanthan gum

1 1/2 tsp

ground cinnamon

1 tsp

salt

1/3 cup

pure Canadian maple syrup (preferably amber syrup for its rich taste)

1/3 cup

buttermilk, at room temperature

2

large eggs

1/2 cup

unsalted butter, softened

3/4 cup

walnuts, chopped
Method
Heat the oven to 230ºC.
In a large bowl, combine the flour, starch, baking powder, baking soda, xanthan gum, cinnamon and salt.
Heat the butter in a small saucepan over a medium heat, stirring occasionally, until the butter turns a nut brown colour, then remove from heat and set aside.
In a large bowl, combine the maple syrup, buttermilk and eggs, then stir in the browned butter.
Add wet ingredients to the dry and stir until just combined. Then stir in the walnuts.
Pour into a well-greased 9×5-inch loaf pan and bake for 55-60 minutes until risen.
Check that the loaf is cooked through by inserting a skewer.
Leave to cool on a wire rack before removing from the loaf tin.
Thickly slice and serve.
This maple walnut loaf recipe is perfect for an after-dinner cheeseboard or with preserves for breakfast, with the pure Canadian maple syrup giving the bread a gentle lift.
The Quebec Maple Syrup Producers are not in any way responsible for the identification or presence of allergens in recipes or for the classification of any recipe as vegetarian or vegan.
Hundreds of Delicious Recipes
Maple is a special addition to any recipe, from appetiser to dessert. Find one that's perfect for you!