Maple Macarons
---
Baking / Desserts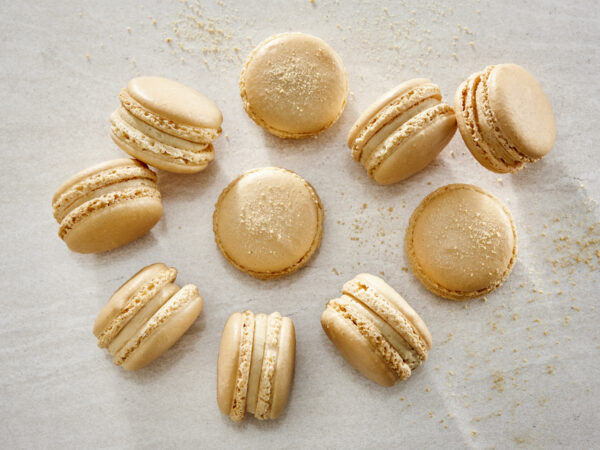 Ingredients
Macarons
10 oz

almond powder

10 oz

icing sugar

10 oz

egg whites
Meringue
4 1/2 oz

egg whites

10 oz

granulated sugar

5 teaspoons

water
Maple Cream
3/4 cup

maple syrup

1

packet neutral unflavoured gelatin

3 tablespoons

water

3

egg yolks

1 tablespoon

granulated sugar

2 cups

35% cream
Method
Meringue and Macarons
For the meringue, blend sugar and water, and cook in a saucepan at 120°C (250°F).
Check the temperature with a candy thermometer. Set aside.
Turn to the macaron ingredients, first mixing the almond powder and icing sugar in a bowl. Then incorporate the 300 g of egg whites and whip for 3 minutes.
Returning to the meringue, beat the other 130 g (4 1/2 oz) of egg whites and the cooked sugar mixture into stiff peaks.
When the meringue has cooled, blend the two mixtures by gently stirring them together.
Using a piping bag or small spoon, drop the macaron mixture onto a sheet of waxed paper. Leave them for about 30 minutes at room temperature to let a crust form, and then bake 6 – 7 in a 180°C/350°F oven.
Take out and allow to rest under a damp cloth.
Maple Cream
In a saucepan, warm the maple syrup over low heat.
In a mixing bowl, dilute the gelatin in the cold water and incorporate it into the maple syrup, stirring continuously.
In another bowl, whip the 3 egg yolks with the sugar until the mixture whitens.
Add this to the maple syrup mixture.
Whip the 35% cream, blend all together, and allow to rest 1 – 2 hours.
Finishing
Using a piping bag or small spoon, garnish the centre of a macaron with cream and press a second macaron onto it. Allow to stand in a cool place 5 – 6 hours.
Impress with this deceptively simple macaron recipe, complete with a luscious maple cream filling. Perfect for pleasing the kids and sharing with guests. 
If you enjoy making these maple macarons, be sure to explore some of our other sweet treats and desserts below.
The Quebec Maple Syrup Producers are not in any way responsible for the identification or presence of allergens in recipes or for the classification of any recipe as vegetarian or vegan.
Hundreds of Delicious Recipes
Maple is a special addition to any recipe, from appetiser to dessert. Find one that's perfect for you!