Maple Easter Cupcakes
---
Baking / Sweet treats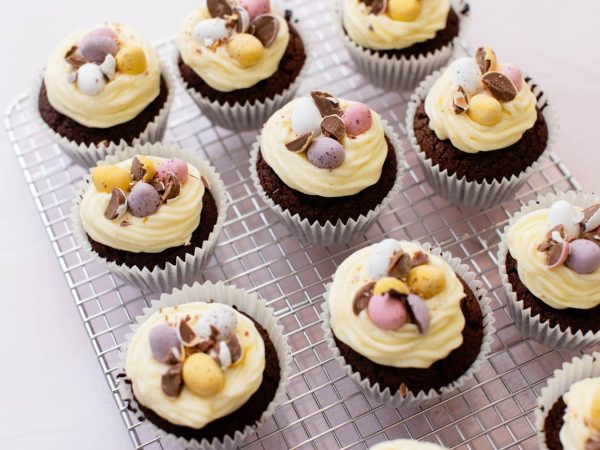 Ingredients
For the cupcakes
1 cup

self-raising flour

1/2 cup

cocoa powder

1 cup

maple sugar

1/2 cup

unsalted butter

1

large egg

2/5 cup

whole milk

1/2 tsp

vanilla extract
For the topping
1 cup

cream cheese, softened

1/2 cup

butter, softened

1/2 tsp

pure vanilla extract

3 tbsp + 1 tsp

pure Canadian maple syrup (preferably amber syrup for its rich taste)
Mini eggs, for optional decoration
Method
Heat the oven to 180°C. Line a 12-hole muffin tin with muffin cases. Combine the flour, cocoa powder and a pinch of salt in a large bowl.
In another large bowl use an electric hand mixer to beat together the maple sugar and butter until pale and fluffy. In a jug, whisk together the egg, milk and vanilla.
Add half the flour and half the milk/egg mixture to the creamed butter and maple sugar, then beat together. Add the rest of the flour and milk/egg mixtures and beat again to make a smooth batter.
Divide the batter between the muffin cases, then bake for 20 minutes or until risen and a toothpick or skewer inserted into a cake comes out clean.
Remove from the oven and leave to cool in the tin for a couple of minutes, then remove to a rack to cool completely.
Beat together the cream cheese and butter in a bowl until light and fluffy. Then add the vanilla and maple syrup.
Pipe the buttercream on top of each cupcake, then decorate with mini eggs.
Looking for some tasty Easter egg cupcakes that can easily be made with the kids? Enriched with the natural sweetness of maple, these Easter cupcakes feature a rich chocolate sponge and a soft cream cheese topping with crunchy mini eggs. 
Did you enjoy making these maple cupcakes? Explore some of our other sweet treats below!
The Quebec Maple Syrup Producers are not in any way responsible for the identification or presence of allergens in recipes or for the classification of any recipe as vegetarian or vegan.
Hundreds of Delicious Recipes
Maple is a special addition to any recipe, from appetiser to dessert. Find one that's perfect for you!