Maple Cinnamon Rolls
---
Vegetarian / Baking / Desserts / Snacks / Sweet treats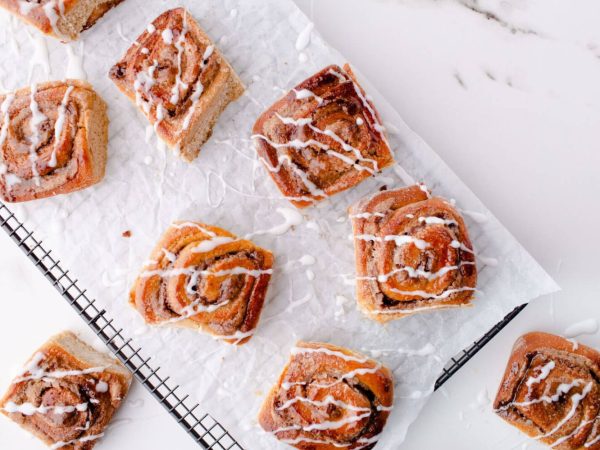 Ingredients
For the dough:
4 cups

plain flour

1 tsp

fast-action yeast

2 tsp

cinnamon

1 tbsp + 3 tsp

maple sugar

2

eggs

½ cup + 3 tsp

milk

⅘

butter

½ tsp

salt

3 tsp

vegetable or sunflower oil, for greasing
For the cinnamon butter filling:
⅗ cup + 1 tsp

butter, softened

⅗ cup + 1 tsp

maple sugar

⅓ cup

plain flour

1 tbsp + 3 tsp

cinnamon
For the cinnamon glaze:
1

egg, beaten

5 tbsp

pure maple syrup (preferably dark syrup for its robust taste)

1 tbsp

cinnamon
Method
To make the dough:
In a mixing bowl, stir flour, yeast, cinnamon and maple sugar together. Make a well in the middle and add the eggs.
In a small pan, gently heat milk (just warmed to touch), butter and salt then add to the dough mixture.
Using a free-standing mixer, knead on medium setting for 7 minutes or about 15 minutes if kneading by hand.
Place dough into a lightly greased bowl, cover with cling film and set aside in a warm place for about 45 minutes or until doubled in size.
To make the maple cinnamon rolls:
For the cinnamon filling, mix together softened butter, maple sugar, flour and cinnamon to form a spreadable paste.
When ready, turn out dough onto a well-floured surface and roll into a 40cm square.
Spread cinnamon paste liberally to the edges of the dough then roll tightly into a long tube shape.
To retain a neat swirl in the middle of each of your buns, loop a piece of cotton around the width of the dough, crossover the two ends and pull in opposite directions to make a nice clean cut.
Repeat the process to divide the dough into 9 pieces.
Place spiral side up into a non-stick 3-inch deep tray, leaving room to expand.
Leave to prove at room temperature for a further 35 – 45 minutes to double in size. Preheat oven to 180°C/Gas 4.
For the cinnamon glaze, brush buns with mixed beaten egg and maple syrup.
Dust the buns with cinnamon, bake for 20 minutes. Serve warm.
The Quebec Maple Syrup Producers are not in any way responsible for the identification or presence of allergens in recipes or for the classification of any recipe as vegetarian or vegan.
Hundreds of Delicious Recipes
Maple is a special addition to any recipe, from appetiser to dessert. Find one that's perfect for you!