Beef and Noodle Stir-fry with Maple Asian Greens
---
Beef / Mains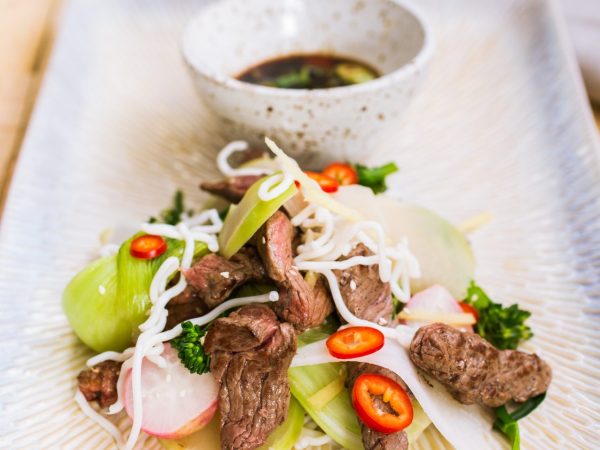 Ingredients
2 cups

of noodles

2 tsp

of sesame oil

3 tsp

of fish sauce

3 tsp

of soy sauce

3 tsp

of pure, Canadian maple syrup (preferably Amber for its rich taste)

1 1/2 tbs

of Chinese rice wine

5 tsp

of chicken stock

4 tsp

of maple sugar

3 tsp

of peanut oil

2 1/2 cups

of beef sirloin or rump, thinly sliced

1/4 cup

of fresh ginger, thinly shredded or grated

1/2 cup

of tender stem broccoli

1/2 cup

of pak choi

1/2 cup

of kohlrabi or Japanese radish

1 1/3 cups

of large leaf spinach
Method
Cover noodles in boiling water and cook.
Drain and toss with the sesame oil. Stir together the fish sauce, soy sauce, stock, half the maple syrup and maple sugar.
Blanch kohlrabi, pak choi, spinach and tender stem broccoli in boiling water, and refresh in cold water and set aside.
Heat a large wok or frying pan over a high heat. Add peanut oi, and when very hot, add the beef in two batches, cooking for 1 minute to seal and brown. Remove and set aside.
Stir-fry the ginger, pak choi, kohlrabi and broccoli with the rest of the maple.
Add beef and sauce and cook for another minute to slightly reduce the sauce.
Toss noodles through the sauce in the pan or spoon in a bowl with beef stir-fry on top.
For a vegetarian or lighter alternative, why not go meat-free and add lots of extra veggies? Anything you have in the fridge would be fine!
The Quebec Maple Syrup Producers are not in any way responsible for the identification or presence of allergens in recipes or for the classification of any recipe as vegetarian or vegan.
Hundreds of Delicious Recipes
Maple is a special addition to any recipe, from appetiser to dessert. Find one that's perfect for you!