Korean Fried Chicken with Fluffy Maple Pancakes
---
Chicken / Breakfast and Brunch / Mains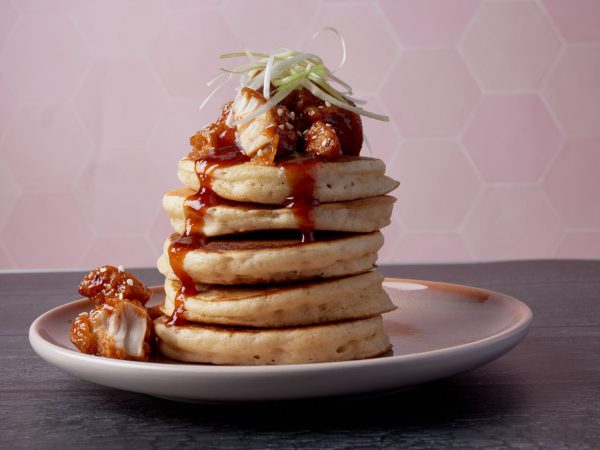 Ingredients
For the pancake batter
2 cups

self-raising flour

1 1/2 tsp

baking powder

1 tbsp

pure maple syrup (preferably amber for its rich taste)

3

large eggs

25g

melted butter

200ml

milk

1

pinch of salt
Vegetable oil, for cooking
For the chicken
500g

skinless boneless chicken thighs, cut into 1-inch pieces

2 tbsp

olive oil

2

garlic cloves, crushed

1/2 tbsp

minced ginger

1 tsp

ground white pepper

1 tbsp

soy sauce
For the gochujang sauce
5 tbsp

gochujang chilli paste

5 tbsp

tomato ketchup

2 tbsp

soy sauce

3 tbsp

pure maple syrup (preferably dark syrup for its robust taste)

1 tbsp

maple sugar

2 tbsp

mirin

2

garlic cloves, chopped
to serve
Additional ingredients
1 cup

potato starch or cornflour
Vegetable oil, for frying
Handful of sesame seeds

2

stalks of spring onion, thinly sliced at an angle
Method
To make the batter
Sift the flour, baking powder and salt into a large bowl. In a separate bowl or jug, whisk together the milk, maple syrup and eggs, then whisk in the melted butter.
Pour the milk mixture into the flour and, using a whisk, beat until you have a smooth batter. Any lumps will soon disappear with a little mixing. Let the batter stand for a few minutes.
Heat a non-stick frying pan over a medium heat and add a little bit of oil.
Add a ladle of batter (or two if your frying pan is big enough to cook two pancakes at the same time). It will seem very thick, but this is how it should be.
Wait until the top of the pancake begins to bubble, then turn it over and cook until both sides are golden brown and the pancake has risen to about 1cm/½cm in thickness.
Repeat until all the batter is used up.
To make the marinated chicken
Put all ingredients in a large bowl, stir and cover with cling film.
Place in the fridge to marinate for at least 5 hours or overnight for best results.
To make the gochujang sauce
Add all ingredients to a small saucepan. Heat over a low heat, stirring for 5-10 minutes until thickened and glossy.
To make the Korean fried chicken pancakes
Preheat your deep fat frier or a deep pan filled with oil to 180C.
Remove the chicken from the fridge and add the potato starch. Toss until all the chicken is evenly coated.
Add the chicken to the frier or a deep pan and fry for 4-6 minutes. Drain on a wire rack with paper towels underneath.
Place the fried chicken in a large bowl and pour over the gochujang sauce. Toss the chicken until every piece is evenly coated.
Sprinkle with sesame seeds then add the chicken onto the stacked pancakes. Drizzle any remaining sauce over the stack.
Garnish with sliced spring onions.
The Quebec Maple Syrup Producers are not in any way responsible for the identification or presence of allergens in recipes or for the classification of any recipe as vegetarian or vegan.
Hundreds of Delicious Recipes
Maple is a special addition to any recipe, from appetiser to dessert. Find one that's perfect for you!