Maple and Cinnamon Halloween Cookies
---
Baking / Sweet treats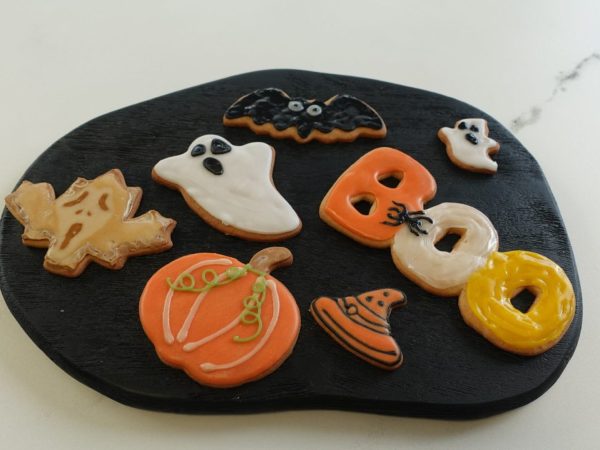 Ingredients
2 cups

unsalted butter, at room temperature

2 cups

maple sugar

2

large eggs, beaten

½ tsp

vanilla extract

1 tsp

ground cinnamon

2 tsp

pure maple syrup (preferably amber syrup for its rich taste)

4 cups

plain flour

1 tsp

baking powder
Method
Beat together the butter and sugar in a large bowl, preferably using an electric mixer, until the mixture is light and fluffy, and pale in colour then beat in the eggs, vanilla extract and maple syrup.
Sift together the flour, cinnamon and baking powder in a separate bowl. Stir the flour into the butter mixture and bring together until the mixture is well combined and comes away from the sides of the bowl.
Turn onto a floured work surface and knead into a ball, divide the dough into two portions, wrap in cling film and leave to chill in the fridge for at least one hour.
Preheat the oven to 180°C/350°F/Gas 4 and line two baking trays with grease-proof paper.
Roll the dough out to a 0.5cm/¼-inch thickness on a lightly floured surface, it's best to roll out one portion of the dough at a time, leaving the remainder in the fridge.
Cut shapes out with your chosen Halloween cutters and place onto the baking tray, leaving a gap between them in case they spread a little then place in the fridge for 20 minutes or freezer for 5 minutes.
Bake for 10-12 minutes, or until slightly golden around the edges. Leave on the tray to cool slightly and then transfer to a wire rack to cool completely.
Once the cookies are cool, it's time for the icing. For the ghosts, roll out white fondant icing to a 0.25cm/⅛-inch thickness, cut out the shapes using the same cookie cutter used for the cookies.
Damp one side of the icing with a dot of water and stick onto the cookies, you can do the same with orange fondant icing for the pumpkins, and black for the bats and cats.
Decorate with scary eyeballs and red food colouring for fangs.
Appease the trick-or-treaters with these spooktacular Halloween cookies, naturally sweetened with cinnamon, maple sugar and pure maple syrup!
Check out more of our baking recipes below.
The Quebec Maple Syrup Producers are not in any way responsible for the identification or presence of allergens in recipes or for the classification of any recipe as vegetarian or vegan.
Hundreds of Delicious Recipes
Maple is a special addition to any recipe, from appetiser to dessert. Find one that's perfect for you!