Fried Chicken and Cashews in a Maple-Soy Glaze
---
Chicken / Mains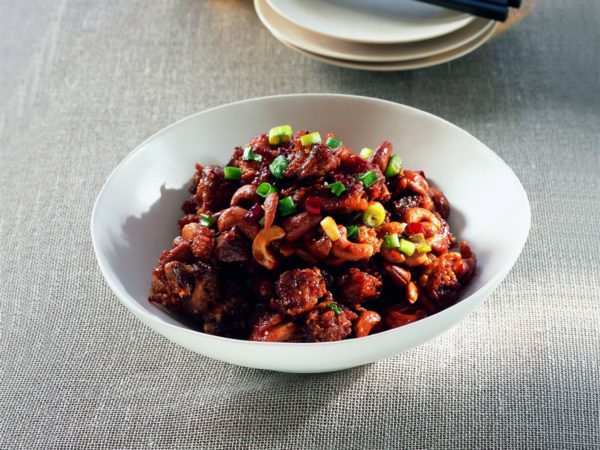 Ingredients
2

slices of chicken thigh meat, cut into 2-3 cm (1 in) cubes
Flour as needed

3 tablespoons

Dark maple syrup

1 cup

raw cashew nuts

1

piece of 2 cm (7/8 in) raw ginger thinly sliced
Oil for deep frying

1/4 oz

soy sauce

1

scallion cut into large chunks

2

red peppers (seeds removed and minced)
Seasoning for the chicken

1 tablespoon

vinegar

1 tablespoon

medium maple syrup

1 tablespoon

ginger juices (from fresh ginger)
Salt, coarsely ground pepper as desired
Method
Combine the chicken with the seasoning and leave it for 20 minutes. Then remove the excess moisture from the chicken and dredge it with flour.
While the oil for deep frying is cold, add the cashew nuts and place it over medium heat, frying the cashews until they turn golden brown.
Fry the chicken until it becomes crisp and golden.
Place the thinly sliced ginger and maple syrup in a wok and simmer. When it is slightly boiled down, add the soy sauce and boil up again.
Add the fried chicken and cashew nuts, the red pepper, scallion, and pepper to finish.
If desired, finish with a dash of coarsely ground salt.
Cashew and chicken are already a winning combination, but this dish takes things to another level with a crispy coating and a deliciously rich maple-soy sauce. We've opted for chicken thighs in this recipe, though you could easily replicate the dish with chicken breasts for a healthier option.
If you like the look of this fried chicken recipe, make sure to check out some of our other chicken recipes below.
The Quebec Maple Syrup Producers are not in any way responsible for the identification or presence of allergens in recipes or for the classification of any recipe as vegetarian or vegan.
Hundreds of Delicious Recipes
Maple is a special addition to any recipe, from appetiser to dessert. Find one that's perfect for you!