Dan Lee's Maple and Tamarind Chicken Wings
---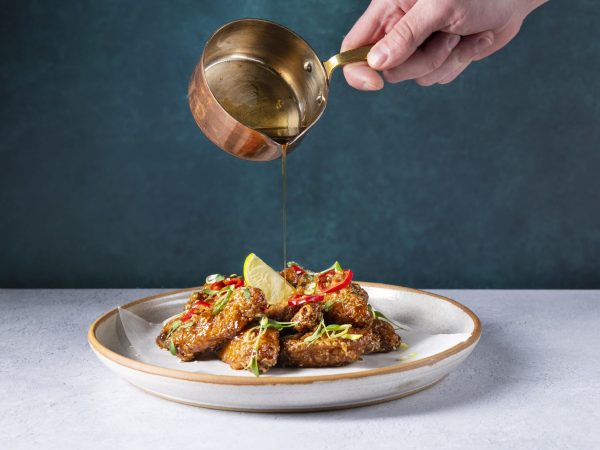 Ingredients
For the chicken wings
3/4 cup

cornflour

2/3 cup

rice flour

1.5 tsp

Chinese five spice

1 tsp

maple sugar

1kg

chicken wings (approximately 10 wings)
Milk, enough to cover the wings
For the glaze
2

pieces of orange peel

4

slices of ginger

1/4 cup

pure maple syrup (

preferably dark syrup for its robust taste)

1/4 cup

pure maple syrup (

preferably very dark syrup for its strong taste)

1/4 cup

tamarind purée

2 tsp

water

2 tbsp

fish sauce

2

kaffir lime leaves
For the garnish
1

spring onion, chopped

1

pinch of sesame seeds

1

handful of chopped coriander

1

red chilli, sliced
Zest of 1 lime
Method
Cut the chicken wings down and trim off the tips (you can buy wings with the tips already separated or ask your butcher to do this for you).
Slightly score each side of the wings so they cook quicker.
Mix the cornflour, rice flour, Chinese five spice and maple sugar together in a bowl to form the coating.
Add the chicken wings to enough milk to cover them completely, remove and roll in the coating and deep fry for 8-10 minutes (until they reach 75°C).
Add all ingredients for the glaze into a pan, stirring together, and bring to boil.
Reduce the consistency by a third, once reduced the glaze should thicken.
Add the deep-fried chicken wings into the glaze and toss for 2 minutes in a pan until the wings are completely coated.
Serve the chicken wings and garnish with the lime zest, chopped spring onion, coriander, sliced red chilli and sesame seeds.
The Quebec Maple Syrup Producers are not in any way responsible for the identification or presence of allergens in recipes or for the classification of any recipe as vegetarian or vegan.
Hundreds of Delicious Recipes
Maple is a special addition to any recipe, from appetiser to dessert. Find one that's perfect for you!