Burgers with a Spicy Maple Sauce
---
Beef / Mains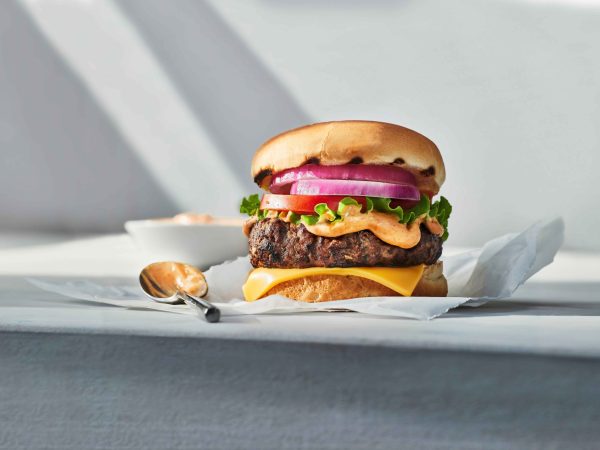 Ingredients
For the patties:
1 lb

lean ground beef

¼ cup

quick-cooking oats

2 tbsp

flat-leaf parsley, chopped

1

egg

1

garlic clove, pressed

1

shallot, minced

1 tsp

Montréal steak seasoning
For the maple sauce:
¼ cup

Greek yoghurt

¼ cup

mayonnaise

2 tbsp + 1 tsp

pure maple syrup (preferably amber syrup for its rich flavour)

1

garlic clove, pressed

½ tsp

harissa sauce

½ tsp

smoked paprika
For the burgers:
4

burger buns

4

slices of smoked gouda or your choice of cheese
A few thin slices of red onion

1

tomato, sliced
Lettuce leaves, to garnish
Method
To make the patties:
Combine all patty ingredients in a bowl and shape into four 2cm (¾ inch) thick patties.
Grill on the barbecue over medium-high heat for 10 – 15 minutes or until internal temperature reaches 71°C (160°F). Turn twice during cooking.
To make the sauce:
Combine sauce ingredients in a bowl. Set aside in the fridge.
Assembly:
With 2 minutes until the patties are cooked, put the buns on the grill and keep a close eye on them to prevent burning.
Spoon sauce onto the bottom halves of the buns, place a beef patty on each and top with cheese, onion, lettuce and tomato.
The Quebec Maple Syrup Producers are not in any way responsible for the identification or presence of allergens in recipes or for the classification of any recipe as vegetarian or vegan.
Hundreds of Delicious Recipes
Maple is a special addition to any recipe, from appetiser to dessert. Find one that's perfect for you!