British Maple Crown Cake
---
Sweet treats / Baking / Desserts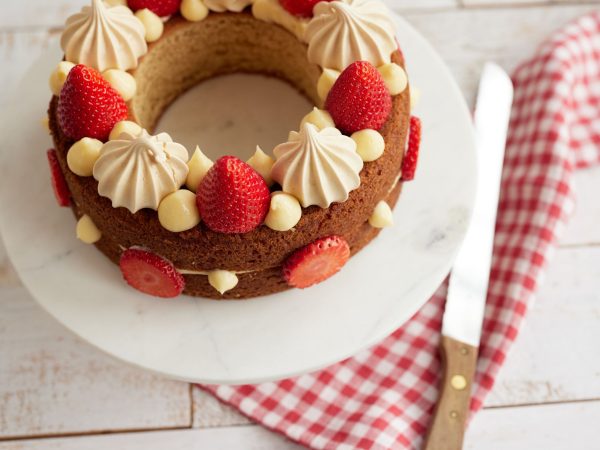 Ingredients
FOR THE SPONGE
1½ cups + 1 tbsp

self-raising flour

1 1/4 cups

maple sugar

¾ cup + 2 tbsp

butter

5

eggs

3 tbsp

pure maple syrup (preferably amber syrup for its rich taste)

2 tsp

baking powder

1 tsp

vanilla extract
FOR THE MERINGUE
1/2 cup

egg whites

1 cup

maple sugar
FOR THE LEMON CURD
1/2 cup

lemon juice

1/2 cup

maple sugar

2

eggs

¼ cup + 3 tbsp

butter
Method
TO MAKE THE SPONGE
Pre-heat the oven 170°C.
Grease and line a 25cm springform cake tins with non-stick baking paper.
In a large mixing bowl, cream together the butter, vanilla extract, maple syrup and maple sugar using an electric whisk until light and fluffy.
Add the lightly beaten egg a tablespoon at a time, beating well between additions until fully incorporated.
Using a large spoon, carefully fold the flour into the batter. Pour the batter evenly into the prepared cake tins.
Bake for 25-30 minutes until springy to the touch and a cake tester comes out clean when inserted into the centre of the cakes. Remove and allow the tins to cool on a wire rack for 5 minutes before turning out and peeling away the non-stick baking paper.
TO MAKE THE MERINGUE
Add egg whites to a stand mixer with the whisk attachment, mix on low, increasing to medium until egg white become foamy peaks. Then, add sugar a few tablespoons at a time until incorporated and meringue becomes stiff and glossy.
Pipe the meringue out onto the prepared baking sheet using a large round star nozzle.
TO MAKE THE LEMON CURD
In a pan, pour lemon juice and half of the maple sugar then bring to a simmer.
In a bowl, mix the eggs with the other half of maple sugar.
Add the egg mix to the lemon juice and bring to a boil.
Add the butter bit by bit, then pour the curd into a bowl. Cool the curd in the fridge for 2 to 3 hours.
ASSEMBLY
Cut the sponge in half lengthwise.
With a large round pastry cutter, cut the middle of both sponges.
Pipe some lemon curd on one of the sponges, then add the other one on the top.
Pipe more lemon curd on the top and decorate with strawberries and meringues.
You can use the middle piece to make a mini crown using the same method above.
The Quebec Maple Syrup Producers are not in any way responsible for the identification or presence of allergens in recipes or for the classification of any recipe as vegetarian or vegan.
Hundreds of Delicious Recipes
Maple is a special addition to any recipe, from appetiser to dessert. Find one that's perfect for you!