Shellfish Tempura with Maple Piri-Piri Mayonnaise
---
Fish and Seafood / Pescatarian / Snacks / Starters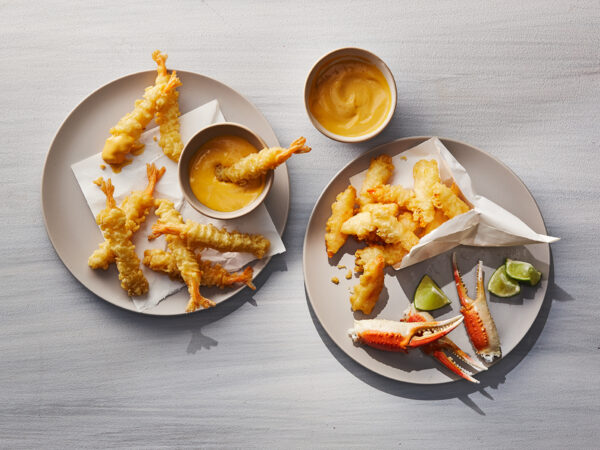 Ingredients
SHELLFISH
8 cups

water

1 tbsp

salt

1 lb

mix of large prawns and crab claws
TEMPURA
1 cup

all-purpose flour

1/3 cup

cornstarch

2 tsp

baking powder

2 tsp

baking soda

1 tbsp

salt

1 tbsp

pepper

1 1/2 tsp

maple vinegar (or white vinegar)

1 1/3 cup

sparkling water

12 cups

canola oil
MAYONNAISE
2

egg yolks

2 tbsp

Dijon mustard

2 tbsp

Portuguese chili paste (or sambal oelek)

1 1/2 tbsp

maple syrup (preferably dark syrup for its robust flavour)

1/2 tsp

salt

2 tsp

maple vinegar (or sherry vinegar)

2 cups

canola oil
Method
SHELLFISH
Put water and salt into a pot and bring to a boil. Add shellfish and boil for 12 minutes. Remove and plunge immediately into an ice water bath.
Once shellfish have cooled, shell them and remove cartilage with pliers.
TEMPURA
Heat oil to a temperature of 180° C (350° F) in a deep fryer or pot.
Blend all batter ingredients.
Dip shellfish in the tempura batter and fry until golden.
MAYONNAISE
Using a whisk or blender, combine all the mayonnaise ingredients except the canola oil.
Stream in the oil until the mayonnaise is smooth and set.
Serve the shellfish on a plate with the mayonnaise in a container on the side.
Choose prawns the same size as the crab claws to ensure they all cook evenly.
The Quebec Maple Syrup Producers are not in any way responsible for the identification or presence of allergens in recipes or for the classification of any recipe as vegetarian or vegan.
Hundreds of Delicious Recipes
Maple is a special addition to any recipe, from appetiser to dessert. Find one that's perfect for you!