Pumpkin, Chestnut and Maple Soup
---
Vegetarian / Mains / Starters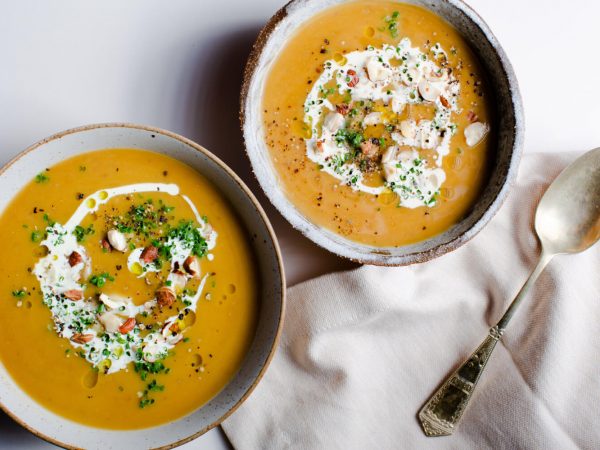 Ingredients
1 - 1.3 lbs

pumpkin or butternut squash, peeled and cut into chunks

3 tbsp

pure maple syrup (preferably golden colour for its delicate flavour)

1 cup

pre-cooked chestnuts

4 cups

vegetable stock

3/4 cup

double cream

1/4 cup

hazelnuts, roughly chopped
Salt and black pepper to taste
Handful chopped chives for garnish
Method
Preheat the oven to 180C/Gas 4
Put the pumpkin or butternut squash onto a baking tray, drizzle with oil, season with salt and pepper and bake for 30 – 35 minutes until soft
In a large pan, boil vegetable stock then transfer pumpkin from oven to pan and add chestnuts
Continue to cook together for a further 5 – 10 minutes reducing liquid by a third, take off the heat and stir through maple syrup and cream
Meanwhile, dry-fry hazelnuts in a pan to toast and set aside
Pour the pumpkin mixture into a blender or food processor and select the "pulse" setting. Pulse until a smooth consistency is formed
To serve, garnish with hazelnuts, chopped chives and drizzle with extra maple syrup and double cream as desired
The complementary flavours of pumpkin, chestnut and maple syrup make for a delicious vegetable soup. This pumpkin soup recipe is simple, hearty and best served with warm, buttery bread.
The Quebec Maple Syrup Producers are not in any way responsible for the identification or presence of allergens in recipes or for the classification of any recipe as vegetarian or vegan.
Hundreds of Delicious Recipes
Maple is a special addition to any recipe, from appetiser to dessert. Find one that's perfect for you!