Maple Vanilla Marshmallows With Spiced Maple Milk
---
Sweet treats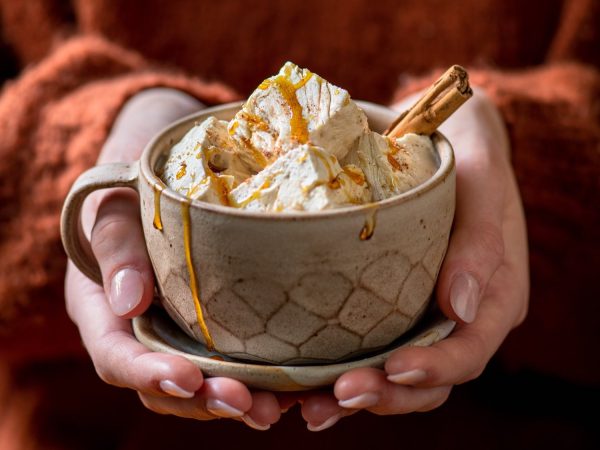 Ingredients
For the maple-swirled vanilla marshmallows
1 cup + 5 tsp

water (half for the syrup and half for the gelatine)

 

⅛ cup

powdered gelatine

1 ¾ cups

400g raw caster sugar

½ cup

pure

Canadian maple syrup (preferably amber syrup for its rich taste)

2 tsp

vanilla bean paste

 

Sea salt flakes

⅗ cup

100ml pure Canadian maple syrup (preferably dark syrup for its robust taste) for swirling

Cornflour for dusting

 

Unflavoured coconut oil for greasing

 
For the spiced maple milk
2 cups + 1 tbsp

milk

5

crushed cardamon pods

1

cinnamon stick

1 tsp

vanilla bean paste

 

¼ tsp

nutmeg, grated

1 tsp

maple sugar

1 tsp

unsalted butter

Extra grated nutmeg and maple syrup, to top

 

Cinnamon sticks, to garnish
Method
For the maple-swirled vanilla marshmallow
Bloom the gelatine by sprinkling it over half of the

cold water

in an approximately one-litre heat-proof bowl and set aside.

In a saucepan, bring the remaining water,

sugar

and maple syrup to a gentle boil.

Reduce heat and simmer until the mixture measures 120°C

 on a sugar thermometer.

Sit to cool for 4 minutes, then whisk it into the gelatine mixture to dissolve.

Transfer to a mixer with a whisk attachment and whisk on high until thick and fluffy, and able to hold its shape —

this

takes around 8 minutes

.

Make sure the bowl is heatproof

.

 

Beat in the vanilla bean paste and salt flakes until combined.

Grease a 20cm square deep cake tin with coconut oil.

Empty in the marshmallow mixture and quickly swirl in the

additional

dark maple syrup.

Allow to set at room temperature for at least 2 hours. They will cut even better left overnight.

Cut into 3cm cubes using sharp, greased knife, and dust with a little cornflour to stop the marshmallows sticking together.

Store the marshmallows in an airtight container at room temperature.
For the spiced milk
Bring the milk, spices,

vanilla

and maple sugar to a gentle boil in a saucepan. Turn down the heat to the lowest setting and allow the mixture to infuse for 5 minutes, stirring from time to time.

Whisk in the butter.

Strain the hot milk into a large mug and top with maple vanilla marshmallows, a sprinkle of nutmeg and extra syrup.

Decorate with a cinnamon stick.
If ever there was an edible warm hug, this would be it: a generous mug full of soft, maple-swirled marshmallow spiked with vanilla and sea salt, oozing into warm milk seeped with more maple, cinnamon, cardamom and nutmeg. So good on a cold winter's day, wrapped in a jumper and curled on your favourite chair.
Like the look of this recipe from The Sugarologist? Check out her website for more wonderful recipe inspiration!
The Quebec Maple Syrup Producers are not in any way responsible for the identification or presence of allergens in recipes or for the classification of any recipe as vegetarian or vegan.
Hundreds of Delicious Recipes
Maple is a special addition to any recipe, from appetiser to dessert. Find one that's perfect for you!