Maple Ham Hock Pakoras
---
Sides / Snacks / Starters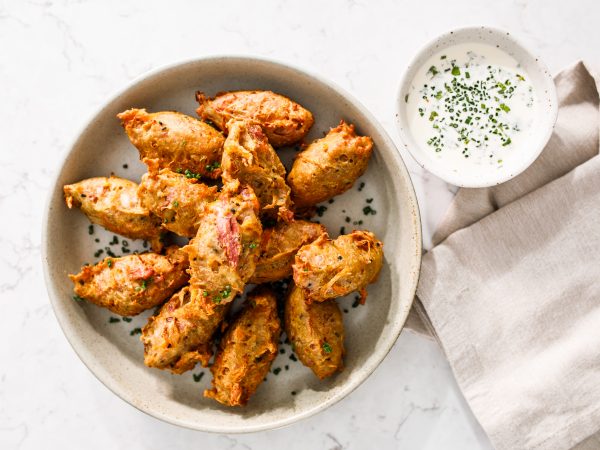 Ingredients
ham hock

2 cups

chickpea flour

2-3 cups

semi skimmed milk

¼ cup

baking powder

1

lime, juiced and zested

1

carrot, grated

1

shallot, finely diced

1 ½ cups

flat-leaf parsley, chopped

1tsp

garam masala

1tsp

onion seeds

1tsp

curry powder

¼ cup

pure maple syrup (preferably golden colour for its delicate flavour)

2-3 cups

vegetable oil

1

large potato, peeled and diced

1

garlic clove, peeled
Chicken or vegetable stock

2

egg yolks
Method
To make the garlic dip, add the peeled and diced potato and garlic to a small saucepan and pour in enough chicken or vegetable stock to just cover them. Bring to a gentle boil and cook until the potatoes are tender
Remove from the heat and once cooled add the mixture to a blender. Add the egg yolks and blitz on a low-medium speed
Slowly, add the oil in a thin, steady stream to thicken and emulsify the mixture – it should resemble mayonnaise
Add in the maple syrup and season to taste. If the mixture becomes too thick, add a dash of hot water
A festive, maple-infused take on the classic pakora. This pakora recipe draws on a range of fragrant herbs and spices as well as the natural sweetness of Canadian maple syrup. Filled with flavour, these fried pakoras will be loved by all the family.
If you like the look of these ham pakoras, make sure to check out our other Christmas recipes.
The Quebec Maple Syrup Producers are not in any way responsible for the identification or presence of allergens in recipes or for the classification of any recipe as vegetarian or vegan.
Hundreds of Delicious Recipes
Maple is a special addition to any recipe, from appetiser to dessert. Find one that's perfect for you!