Maple-Glazed Courgette and Prawn Sticks
---
Sides / Fish and Seafood / Snacks / Starters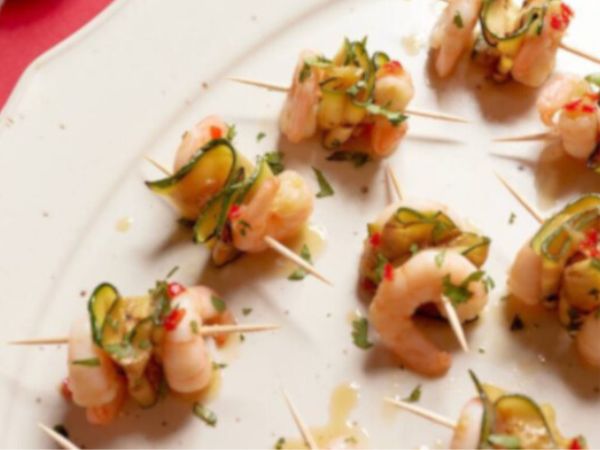 Ingredients
300g

fresh raw king prawns

3

courgettes

3 tbsp

olive oil
FOR THE GLAZE
1 tbsp

olive oil

2 tbsp

maple syrup (preferably amber for its rich taste)

3

garlic cloves, grated

1

red chilli, chopped

2 tbsp

maple vinegar

1 pinch

black pepper

1 pinch

salt
TO GARNISH
1 handful

chopped coriander
Method
FOR THE COURGETTE
Slice the courgette into ribbons using a peeler.
Place the courgette ribbons in a bowl and pour over 2 tablespoons of olive oil.
Toss well to fully coat.
Place a griddle pan on a high heat.
Lay the courgette strips side by side in the hot pan and cook in batches until griddle marks appear, the strips are thin enough to just cook on one side.
Remove and place on a plate lined with kitchen towel.
FOR THE GLAZED PRAWNS
Place all the glaze ingredients in a bowl and mix well.
Place the griddle pan on a high heat. When the pan is hot, add the raw king prawns and pour over the glaze. Pan fry until the prawns turn bright pink then transfer to a bowl with the glaze.
If you think your prawns are cooked but the sauce isn't yet thick or sticky, then remove the prawns and bring the sauce to a simmer until it's the right consistency, drizzle the sauce over the prawns before it cools and sets.
TO ASSEMBLE
Make the sticks by skewering 2 cooked prawns on the stick with 2 folded strips of courgette sandwiched in between.
Sprinkle with chopped coriander, drizzle with any leftover glaze and serve straight away.
These courgette and king prawn skewers are the perfect appetiser for your Christmas dinner party. Canadian maple syrup pairs perfectly with prawns and adds extra sweetness to this light canapé.
The Quebec Maple Syrup Producers are not in any way responsible for the identification or presence of allergens in recipes or for the classification of any recipe as vegetarian or vegan.
Hundreds of Delicious Recipes
Maple is a special addition to any recipe, from appetiser to dessert. Find one that's perfect for you!