Maple, Cherry and Mascarpone French Toast
---
Breakfast and Brunch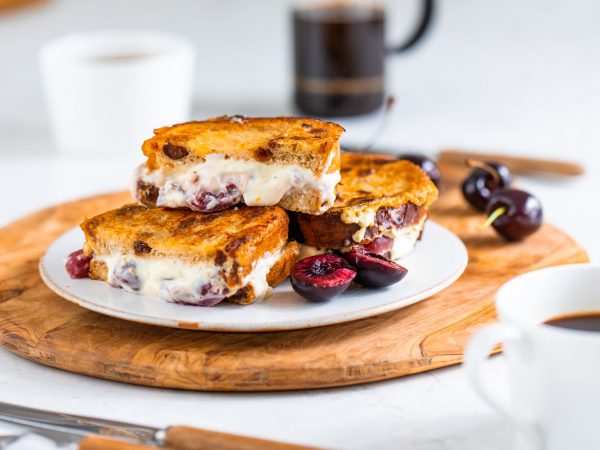 Ingredients
3-4 cups

stoned and drained cherries

2tbsp

pure maple syrup (preferably amber syrup for its rich taste)

1-2 cups

mascarpone

½

zest of grated orange

2tbsp

icing sugar, plus extra for dusting

8 slices

of fruit bread

4

eggs

1 cup

milk

¼ cup

unsalted butter

1tsp

ground cinnamon, plus extra for dusting
Method
In a bowl place cherries and soak in maple syrup. If using fresh cherries, gently poach them in a small saucepan over a low heat.
In a separate bowl, mix together the mascarpone, orange zest and icing sugar.
Spread the mascarpone mixture on two sides of two slices of fruit bread.
Top with a spoonful of maple syrup, the cherries and place with remaining fruit bread to make a sandwich. Press slices together.
In a wide rimmed, shallow bowl, whisk eggs and milk together and add cinnamon. Gently lift and place sandwich into the egg mix turning over to cover each side.
Melt butter in a frying pan, and when hot, lay down each sandwich and cook until light, golden brown and crispy. Make sure egg is cooked thoroughly on each side.
Serve onto a plate, sprinkle with extra ground cinnamon and icing sugar, cut in half and serve.
Learn how to make traditional French toast with this wonderful eggy bread recipe. Maple syrup is spread on the slices of fruit bread to create the most deliciously sweet French toast, which pairs perfectly with the cherries and mascarpone. Juicy and indulgent, this dish is a great way to brighten your morning.
The Quebec Maple Syrup Producers are not in any way responsible for the identification or presence of allergens in recipes or for the classification of any recipe as vegetarian or vegan.
Hundreds of Delicious Recipes
Maple is a special addition to any recipe, from appetiser to dessert. Find one that's perfect for you!