Goat's Cheese Fritters with Maple Pea Purée
---
Snacks / Starters / Vegetarian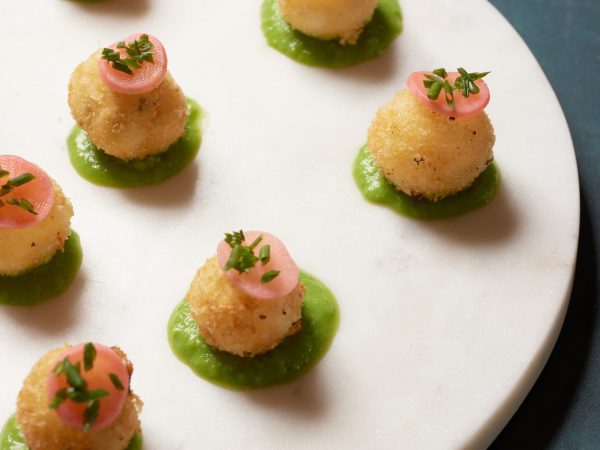 Ingredients
2 cups

of soft goat's cheese, chilled

2 tbs

of maple syrup (preferably dark for its robust taste)

1 tsp

of chives, finely chopped

1/2 cup

of frozen peas

2

whole eggs, beaten

1/3 cup

of Panko breadcrumbs

3 tbs

of flour
Vegetable oil for frying

1/4 cup

of pickled radish
Salad cress for garnish
Salt and pepper to taste
Method
In a medium mixing bowl, add the goats' cheese, maple syrup, chives, salt and pepper and mix well
Form the mixture into 8-10 balls, place on a tray and refrigerate while you prepare the pea mixture
Bring a pot of water to the boil, add the peas and cook on a rolling boil for two minutes. Drain the peas and plunge them into a bowl of ice water
Drain the peas again and place them in blender, blending until smooth. Add some water if the puree is too thick, it should be a smooth consistency
Set up a station with three containers, one containing the flour seasoned with salt and pepper, one with the beaten eggs and one with the breadcrumbs
Take your goat cheese balls out of the fridge and put one in the seasoned flour, making sure that it is well coated
Shake off any excess flour and dip into the beaten egg, again making sure it is well coated
Finally roll the goat cheese ball onto the breadcrumbs, again making sure it is well coated
Tap the ball firmly to ensure that the breadcrumbs are well attached and place onto a clean plate or tray
Repeat the process with the remaining balls, cover and store them in the fridge, allowing to chill and set for one hour before deep frying
Once ready to cook, heat your oil for frying to 170-180c. If you don't have a fryer, you can use a deep-frying pan but make sure the oil is only filled up to 1/3 of the pan
Cook each fritter for 1-2mins until golden brown. Place on a cooling tray, ready to be plated
Add small dollops of pea puree around a serving plate, place a fritter on each dot with some pickled radish and cress on top for garnish
A stunning and sophisticated goat's cheese recipe, perfect for serving at cocktail or dinner parties. Seasoned with chives and maple syrup, the cheese fritters are double dredged in flour and breadcrumbs, then fried for a crispy, golden-brown coating. They're best served on pea purée and garnished with pickled radish and salad cress for added flavour and elegance.
If you like the look of this goat's cheese canape, make sure to check out some of our other snacks and starters below. 
The Quebec Maple Syrup Producers are not in any way responsible for the identification or presence of allergens in recipes or for the classification of any recipe as vegetarian or vegan.
Hundreds of Delicious Recipes
Maple is a special addition to any recipe, from appetiser to dessert. Find one that's perfect for you!