Maple syrup nutrition facts
As a natural product that's free from processing, pure maple syrup is often said to offer greater nutritional value than processed sweeteners. 
But how healthy really is maple syrup? How many calories are there per serving and what vitamins and minerals does it contain? Find all the maple syrup nutrition facts you need below!
Maple syrup nutrition
Maple syrup has a unique nutritional profile and is a source of several essential vitamins and minerals. As a sweetener, it is naturally high in sugars however it can generally be said to offer greater nutritional value than processed sweeteners like caster sugar and golden syrup.
 

 

Maple syrup

 

per tbsp 20ml (26.7g)

 

% daily intake (DI)

 

Energy

 

kJ

 

288.0

 

3%

 

 

kcal

 

69

 

 

Fat

 

g

 

0.0

 

0

 

Saturates

 

g

 

0.0

 

0

 

Carbohydrates

 

g

 

17.8

 

6

 

Sugars

 

g

 

16.1

 

18

 

Protein

 

g

 

0

 

0

 

Salt

 

g

 

0.01

 

0

 

Vitamins

 

 

 

% DI

Riboflavin

 

mg

 

0.338

 

20

 

Minerals

 

 

 

 

Manganese

 

mg

 

0.540

 

11

 
The data from this table is sourced from the Australia New Zealand Food Standards website.
Calories
A tablespoon serving of pure maple syrup has 69 calories, equating to around 3% of the daily recommended intake for adults.
Carbohydrates
Pure maple syrup mainly consists of carbohydrates. There are around 18g carbohydrates per serving, with roughly 16g being made up of sugar.
Fat
Pure maple syrup is almost completely fat free. There is a tiny trace of fat in the sweetener – but just 0.1g per 100ml portion.
Protein
As with fat, there are only tiny trace amounts of protein in pure maple syrup, not enough to derive any associated benefits.
Vitamins
Maple syrup is a natural source of riboflavin (vitamin B) containing around 20% of an adult's daily recommended intake in one 20ml serving.
Minerals
Maple syrup is also a source of manganese, with a tablespoon serving providing around 11% of the mineral's daily recommended intake. 
Glycaemic index
Maple syrup has a glycaemic index of around 54, meaning it lowers blood sugar levels at a slower rate than higher-scoring sweeteners like caster sugar.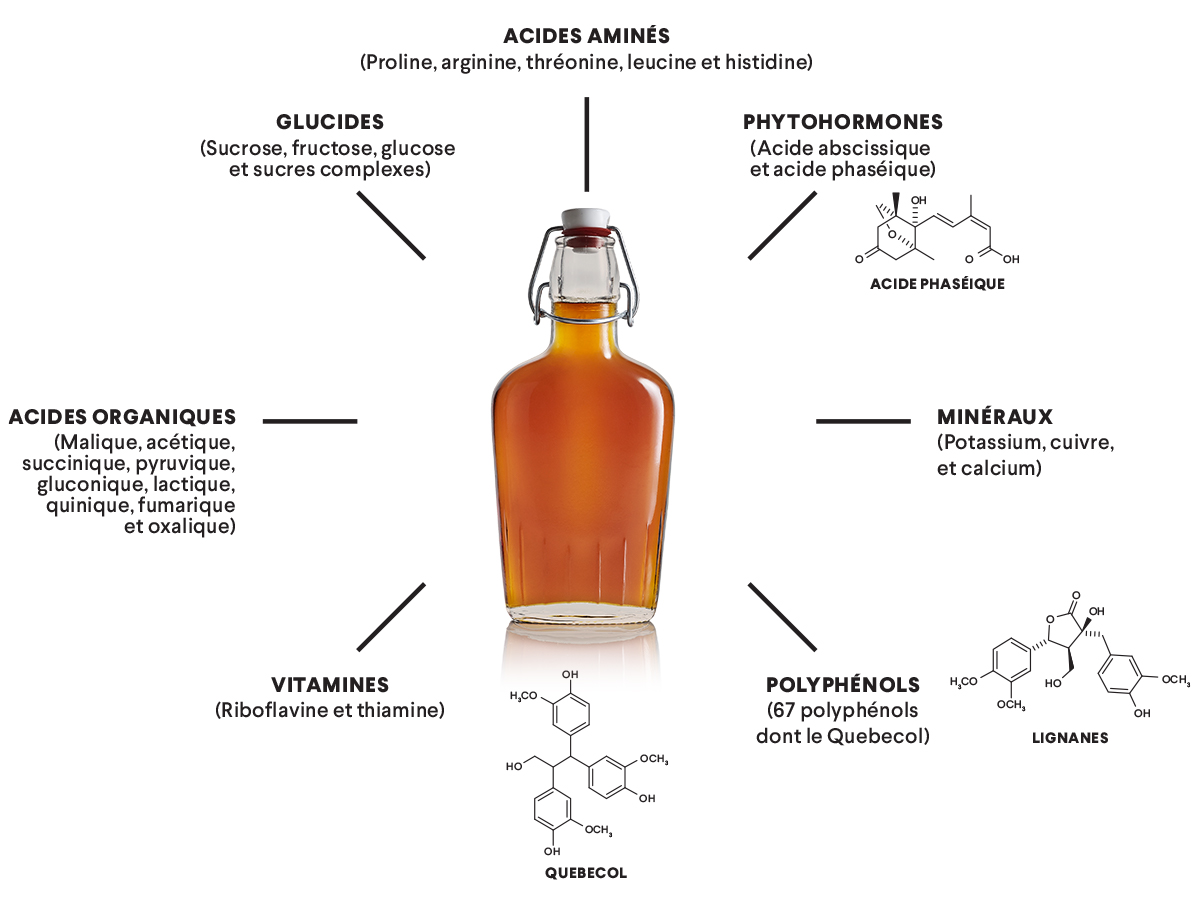 Learn more about the nutritional profile of maple syrup below. 
How does maple syrup compare to other sweeteners?
When cooking and baking, your choice of sweetener can have a sizeable impact on the nutritional value of your dishes. 
Learn more about how maple syrup compares to other popular sweeteners like caster sugar, honey and golden syrup below.
Maple syrup vs sugar
As a completely natural sweetener, maple syrup is often seen as a healthier and more sustainable alternative to sugar. It contains fewer calories and carbohydrates and provides more nutrients.
Maple syrup vs honey
Honey and maple syrup are two sweeteners that provide several nutrients, however honey has slightly more calories and sugars.
Maple syrup vs golden syrup
While they are sometimes confused with each other, maple syrup and golden syrup differ considerably in their nutritional profiles.
Like the World Health Organization (WHO), the Quebec Maple Syrup Producers from Quebec support the moderate consumption of sugar. WHO recommends a daily intake of added sugar not exceeding 10% of daily energy intake, an average of about 2,000 kcal. This represents 50g of added sugar or 37.5 ml of maple syrup, a little less than 2 tbsp.
Hundreds of Delicious Recipes
Maple is a special addition to any recipe, from appetiser to dessert. Find one that's perfect for you!